Events organisieren – aber ohne die Privatsphäre von allen aufgeben zu müssen.
Leute einladen, Rückmeldungen & RSVP erhalten – ohne dass alle hinter den Kulissen getrackt werden.
Neue Seite erstellen
Über Zenvite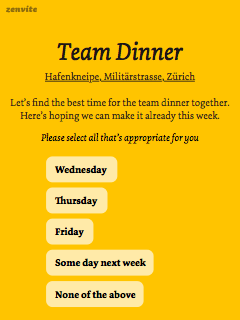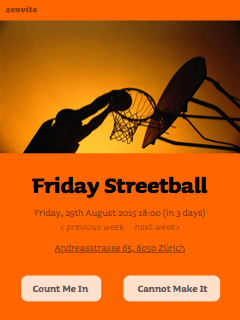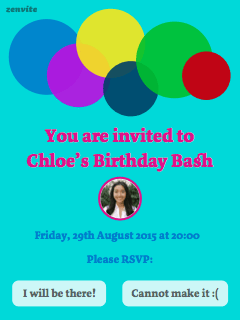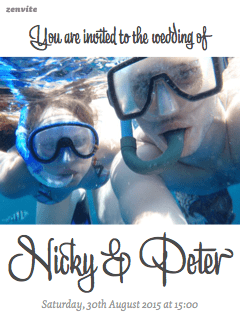 (These are placeholders while the design is finalized.)
So funktioniert es
Erstelle eine neue Seite

(keine Registrierung notwendig)

Lade andere ein by sharing the page
Erhalte Antworten
Verwende Zenvite Seiten für…
Invite people and receive RSVP.
Capture registration data for events.
Schedule appointments & conduct polls.
Recurring? Automatically remind everyone each time.
Everyone's on the same page.All responses, the latest updates, and all comments are in a single place. The notifications and emails make sure everyone's updated and nobody forgets about it. You just have to invite people. The rest takes care of itself.
RSVP in a few taps.A few taps or clicks are enough to respond. No need to sign up anywhere or to be member of a social network. Just enter your name. If you want to use your avatar and get notifications you can log in with your email address, or via Twitter, Google, Microsoft, etc.
Recurring events with automatic reminders.You are reminded before each occurrence. Everyone just taps the RSVP buttons in the email and the results are immediately available on the page. You can easily skip or reschedule individual occurrences. Repeating can be modified and turned on & off any time.
Clever features.Pages come comfortably configured out of the box but you can fine-tune the settings whenever you need more. For example: hide responses and comments; specify the minimum and maximum number of participants; set up a response deadline; and so on…
Warum Zenvite
Private by design. Use it anonymously or with multiple identities.
Restrict access to the page and hide data that are not for everyone.
Quick polls to find the date and place that's good for most people.
Notifications einschalten, wo es wichtig ist.
Automatic reminders from repeating pages.
Advanced settings for special cases.
So much better than ad-hoc ways (email, texting, etc.)
Start out from great templates.
Include custom questions.
People can respond with a single tap.
Every response and all the latest updates are in a central place.
Anybody can RSVP from any device. No app required.
Get everyone on the same page
Create a new Zenvite page whenever you need RSVP, a poll, or scheduling an event.
Organize events of all sizes:
online and offline meetings
conferences, workshops
sport events, trainings
parties, eating out
classes you give
weddings
etc.
Every page can be recurring. You can add new occurrences manually, or set up automatic repeating weekly, monthly, or in any other way.
Be the most-organized organizer. Invite everybody.
Frühen Zugang erhalten
Über Zenvite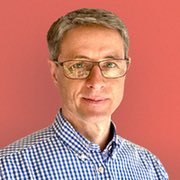 Design und Umsetzung: Gabor Lenard, ein Designer und Entwickler in der Schweiz. Auf Mastodon als @zengabor@mastodon.social. I started working on Zenvite to help my buddies with the weekly basketball and soccer games, and when going to the cinema or ordering food to the office. My friends still help with advice and ideas, and nowadays also my wife and kids.
To me and many of my friends privacy is important. We don't want to use apps that allow advertisement companies to silently harvest everyone's data. Zenvite was built from the ground up to protect everyone's privacy; it stores as little information about its users as possible, and protects their identity. Currently there are no ads on Zenvite, and even if we'll have to add them someday to cover the hosting costs, we will never allow third-party scripts that track people.
Additionally, I am grateful for the work of others:
Wir sind dankbar für comments & suggestions.
Loading…
This is taking longer than expected.
Are you online?
Loading…
This is taking longer than expected.
Are you online?
Loading…
This is taking longer than expected.
Are you online?