Intelligens meghívó-oldalak
Rendezvények szervezése. A kicsitől az egészen nagyokig. Nemkívánatos adatgyűjtés nélkül.
ÚJ OLDAL LÉTREHOZÁSA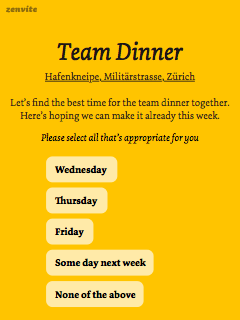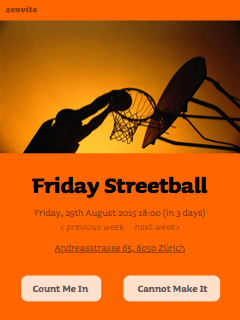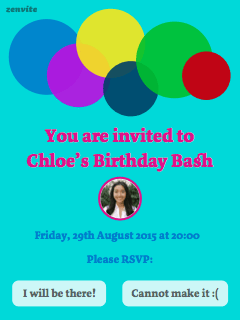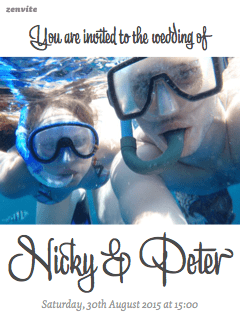 (Ezek csak ideiglenes példák. Már készülnek az igaziak.)
Hogyan működik a Zenvite
Hozz létre egy új oldalt

(nem kell regisztrálni)

Hívd meg a többieket, megosztva az oldal linkjét
Start receiving responses
Mire használhatsz Zenvite oldalakat:
Invite people and receive RSVP.
Capture registration data for events.
Schedule appointments & conduct polls.
Recurring? Automatically remind everyone each time.
Everyone's on the same page.All responses, the latest updates, and all comments are in a single place. The notifications and emails make sure everyone's updated and nobody forgets about it. You just have to invite people. The rest takes care of itself.
Könnyű visszajelezni.A single tap or click is enough to respond. No need to sign up anywhere or to be member of a social network. Just enter your name for the first time. If you want to use your avatar and get notifications you can sign in with your email address, or via Twitter, Google, Microsoft, etc.
Ismétlődő események automatikus értesítőkkel.You are reminded before each occurrence. Everyone just taps the RSVP buttons in the email and the results are immediately available on the page. You can easily skip or reschedule individual occurrences. Repeating can be modified and turned on & off any time.
Clever features.Pages come comfortably configured out of the box but you can fine-tune the settings whenever you need more. For example: hide responses and comments; specify the minimum and maximum number of participants; set up a response deadline; and so on…
Miért érdemes a Zenvite-ot használni
Private by design. Use it anonymously or with multiple identities.
Restrict access to the page and hide data that are not for everyone.
Quick polls to find the date and place that's good for most people.
Push notifications & email notifications.
Automatic reminders from repeating pages.
Advanced settings for special cases.
Messze jobb, mint az ad-hoc módszerek (email, SMS stb.)
Start out from great templates.
Include custom questions.
People can respond with a single tap.
Every response and all the latest updates are in a central place.
Anybody can RSVP from any device. No app required.
Get everyone on the same page
Create a new Zenvite page whenever you need RSVP, a poll, or scheduling an event.
Organize events of all sizes:
online and offline meetings
conferences, workshops
sport events, trainings
parties, eating out
classes you give
weddings
etc.
Every page can be recurring. You can add new occurrences manually, or set up automatic repeating weekly, monthly, or in any other way.
Be the most-organized organizer. Invite everybody.
KÉREK ELŐZETES HOZZÁFÉRÉST
Akik a Zenvite-ot készítik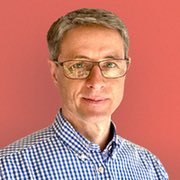 Tervezés és megvalósítás: Lénárd Gábor, aki fejlesztőként dolgozik Svájcban. Megtalálható a Twitteren @zengabor néven. A Zenvite-on azért kezdett el dolgozni, hogy segítse barátait a heti kosárlabda és foci szervezésében, illetve mozilátogatáskor és az irodai ebédrendelésnél.
Állatok: Gracza Balázs
Betűtípusok: Underware
Ikonok: Feather (némi finomítással)
Hálásan veszünk megjegyzéseket és visszajelzéseket.
Loading…
This is taking longer than expected.
Are you online?
Loading…
This is taking longer than expected.
Are you online?
Loading…
This is taking longer than expected.
Are you online?